general news
LISTS OF 10 RICHEST PEOPLE OF ALL TIME – That as ever lived on the earth
Money and wealth are some of the basic needs of mankind, people struggle day in day out to acquire money to live a luxurious life.
Everyone hankers for money, but not everyone has it.
Money is not the dividend to hard work, it's just a precursor to it. Its not how fastidious and astute you are in your business line but its just the grace of the Almighty but you have to work to convince him that you really need money.
People have been rich from the beginning of life and so shall it be till the end of time.
wealtOur forefathers , the rich ones, lived a very luxurious lifestyle even though the technology of those years was not as sophisticated as we have it now.
They were fortunate to have amassed so much money.
Below is the list of top ten richest people of all time, the richest man of today is far from the least of them.
King Solomon
This is the richest of all mankind, his estimated worth is $2.1 Trillion. King Solomon lived between 970 to 931 BCE. King Solomon lived for 40 years, during his years, he received 25 tons of gold every year, each ton of Gold is worth $64.3 Million dollars at $2000/oz Therefore, 25 tonne times 40 years of his reign amounts to $64,300,800,000.
Excluding the  income derived from his business, trade, and the annual tribute paid to him by all of the kings and governors of Arabia.
To complement his wealth, king solomon throne was coated in pure gold and inlaid with ivory. It had 6 stairs, 12 lion statues (1 on either side of each step) and a solid gold foot stool with two larger lion statues stood on either side of the throne.
All the utensils and household materials of king solomon were made of pure gold. During his reign, the silver was devalued greatly because nothing was made with sliver in his palace.
John D. Rockefeller.
John D. Rockefeller was a US based renowned business man, who lived between July 8, 1839 – May 23, 1937. He cofounded the Standard Oil Company as an Ohio partnership with his brother Williams along with Henry Flagler, Jabez Bostwick, chemist Samuel Andrews, and a passive partner, Stephen V. Harkness.
It dominated the oil industry during this time and was the first great U.S. business trust. Rockefeller revolutionized the petroleum industry in the world .. In 1870, he founded Standard Oil Company and dauntlessly ran it until he officially retired in 1897.
As the need for kerosene and gasoline grew tremendously, so also his wealth grew greatly. He emerged as the world's richest man and the first American worth above a billion dollars. Rockefeller spent the last 40 years of his life in retirement, creating several foundations and giving back to the humanity through his wealth. He contributed tremendously in medicine, education and scientific research. His foundations led the development of medical research and were instrumental in the eradication of hookworm and yellow fever.
Manda MUSA I
Mansa Musa I was the tenth Mansa, translated as "King of Kings" or "Emperor", of the wealthy Malian Empire. in 1324, Musa did his pilgrimage with over 60,000men, 12,000 slaves with each carrying 4-lb. gold bars, heralds dressed in silks who bore gold staffs, organized horses and handled bags. Musa made available, all necessities, for the pilgrimage and feeding the entire entourage.
He went with 80 camels, with each camel carrying between 50 and 300 pounds of gold dust. He gave charity to the poor he countered on his road as he travelled with gold to the poor he met along his route.
Also, it was recorded that he built a mosque each and every Friday of his life
Musa visited the Mamluk sultan Al-Nasir Muhammad of Egypt in July 1324. Musa's generous actions, made gold devalued in the cities of Cairo, Medina and Mecca, this led to the drastic increase in the prices of all commodities in the nation.
Musa tried to alleviate this change in the economy by borrowing all the gold he could carry from money-lenders in Cairo, at high interest. This is the only time recorded in history that one man directly controlled the price of gold in the universe.
Andrew Carnegie
Carnegie was born on  November 25, 1835 in Dunfermline, Scotland, and emigrated to the United States with his parents in 1848, where he lived all his life until he died in August 11, 1919. Andrew started his hustle as a telegrapher but as his hustle grew he delved further to investing in railroads, railroad sleeping cars, bridges and oil derricks. He built Pittsburgh's Carnegie Steel Company, but sold it to J.P. Morgan in 1901 for $480 million, creating the U.S. Steel Corporation.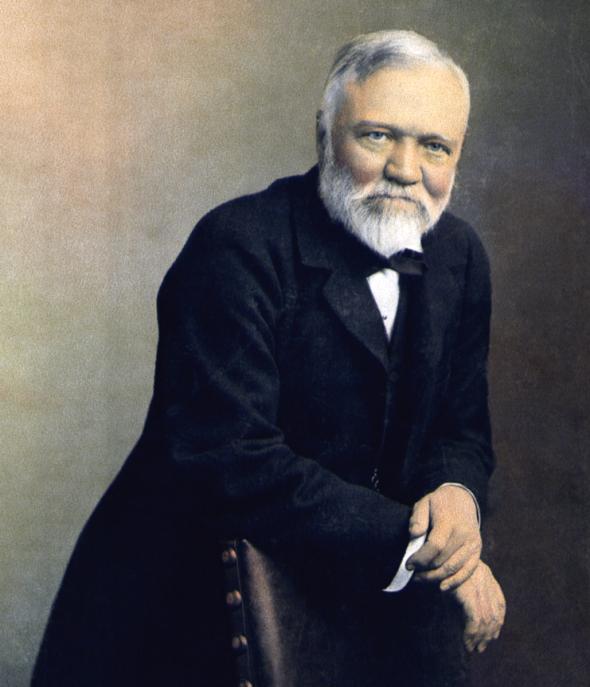 Carnegie used the rest of his life to being a great philanthropist. He contributed tremendously, to the development of local libraries, world peace, education and scientific research. He built Carnegie Hall, and founded the Carnegie Corporation of New York, Carnegie Endowment for International Peace, Carnegie Institution for Science, Carnegie Trust for the Universities of Scotland, Carnegie Hero Fund, Carnegie Mellon University and the Carnegie Museums of Pittsburgh, among others with the money he made from his sweat. His story has often been referred to as a true "rags to riches" story. His estimated worth is  $310 Billion.
Tsar Nicholas II of Russia
Tsar Nicholas II was a native of Russia, born in 1868 as Nikolai Alexandrovich into the House of Romanov. He  was the emperor of the Russian Empire from 1894 until the February Revolution of 1917. At 48 his wealth was valued at up to US$881 million, equivalent to US$290 billion in today's money.
He  was  the wealthiest monarch and head of state. Also declared as the wealthiest saint by the Russian Orthodox Church. He was  murdered in 1918 by the Bolsheviks. During his regime, Russia was flawlessly defeated in the Russo-Japanese War, this destroyed the Russian Baltic Fleet at the Battle of Tsushima.
When he died, his net worth was $900 million,  this made him one of the richest monarchs in human history
Mir Osman Ali Khan
Mir Osman Ali Khan was born 6 April 1886. He was the richest man in the world, as his estimated worth was  US$2 billion in the early 1940s which is equivalent to $32.8 billion in today dollars. It was 2 per cent of the US economy then. He was the last Nizam or ruler of the Princely State of Hyderabad and of Berar. He ruled Hyderabad between 1911 and 1948, before it was merged into India.
He was stylishly crowned at The Nizam of Hyderabad. The Nizam was  the richest man in South Asia until his death in 1967.
He made his fortune from at private treasury. He acquired £100m worth of gold and silver, and a further £400m of jewels. Ali Khan net worth was $236 billion, making him the wealthiest in his time.
Jakob Fugger of the Lily
Jakob Fugger was born on 6 Mar 1459, he was nicknamed Jakob Fugger the Rich or sometimes Jakob II. He was the progeny of the Fugger family from the Free Imperial City of Augsburg, where he was also born. He started his educational carrier at the age of 14 in Venice, where he lived  until 1487  He lived his life as an entrepreneur, he was a miner and at one time a banker of  Europe between ca. 1495-1525. The basis of his family wealth was through the trading of textile with Italy.
The family business grew greatly after Jakob and his brothers, Ulrich, Georg,  commenced banking transactions with the House of Habsburg as well as the Roman Curia. Also, they were serious minded as they began mining operations in Tyrol, where they extracted silver and copper in the present Czech Republic and Slovakia in 1493.
As at 1525 they, they already had the permission to mine quicksilver and cinnabar in Almadén, by the virtue of the marriage to Grand Burgher of Augsburg (German Großbürger zu Augsburg). He expanded the business within a short decade, He was among the most well known Germans and also was the most famous citizen of Augsburg.  He died on 30 December 1525, before his death, he had willed all his properties to his nephew Anton Fugger. In 1967, his bust was placed in the Walhalla, a "hall of fame" near Regensburg that honors laudable and distinguished Germans.
Henry Ford
Henry Ford was born July 30, 1863.He was the founder of Ford Motor Company, where he developed and manufactured the first automobile that middle class Americans could afford. The idea of model T automobile rejuvenated the transportation activities of the world as his products were highly affordable.
The idea of Ford Automobile made his a very popular and one of the richest of all time.
Ford idea and mode of operations was termed fordism, which means mass production of inexpensive goods coupled with high wages for workers.
Ford's idea was one of economic independence for the United States. He owned the  River Rouge Plant, which became the world's largest industrial complex, as it could produce its own steel. Ford's objective was to produce a vehicle from the basis without any support from foreign trade.
He believed in the global outreach and growth of his company. He believed that international trade and cooperation lead to international peace, and he used the assembly line process and production of the Model T to demonstrate it, he died April 7, 1947 and estimated worth was  $199 Billion.
Cornelius Vanderbilt
Cornelius Vanderbilt was born May 27, 1794  in Staten Island, New York and began working on his father's ferry in New York Harbor as a boy.
He stopped going to school at the age of 11 and as at age of 16 Vanderbilt decided to start his own ferry service business. As history have it, he borrowed $100 from his mother to purchase a periauger ,a shallow draft, two masted sailing vessel, to aid his service.
This was his first asset of the business. He started by ferrying freight and passengers between Staten Island and Manhattan.
As he grew, he built his wealth from transportation, basically shipping and railroads. He was also the patriarch of the Vanderbilt family and one of the richest Americans in history. He founded Vanderbilt University, which was named after him.
He died on January 4, 1877and his estimated worth was $185 Billion.
Alan Rufus
Alan Rufus was born was a contractor and also a close ally Of William the Conqueror. Alan made his money through building of abbeys, castles and manor-houses across Norman England which he employed skilled labor to carryout this operations.
He was given 250,000 acres of land the "Land of Count Alan" in Yorkshire in 1071 by the King for his cooperation in the invasion.
His estimated worth was  $178.65 billion. This made him one of the richest people in history of mankind.
There is no amount of money you have today that hasn't been chicken change for some people in the past, scrap away the chip in your shoulder and live humbly
--Advertisements--
--Advertisements--