general news
5 Reasons you should Travel to Dubai for Holiday
Dubai
is such a lovely place to travel to.
All around the world, Dubai stands out impeccably as a top travel destination.
If you want to hide away from the strangulation of our busy world today, just pack your things up and get on a cheap flight to Dubai and you can be sure to forget all your worries behind once you land in Dubai.
The beauty, the architectural splendour and the magnanimous culture all combine to ensure that you are given the best treat for your time.

--Advertisements--
--Advertisements--
This is extremely lovely as with a cheap flight, you are affordably in Dubai, the earthly heaven. There are many things you would love to see in Dubai.
YOU DEFINITELY NEED TO SEE THE AMAZING BURJ KHALIFA
CREDIT: JEshoots shares under
Pixabay
Burj Khalifa is a testament to sculptural ingenuity and architecture at its fiercest. Burj Khalifa is notably the tallest skyscraper on earth.
But the glory of the Burj Khalifa is more seen in person than in pictures. The high rise building peaks right into the sky. Taking a selfie with the Burj Khalifa is sure to get all your Naija folks ogling with envy.
The Lost City of Atlantis is another beautiful place in Dubai that typifies the unearthly wonder of Dubai. Getting to the lost city as a visitor, you can have as much fun feeding your eyes and exploring the sights of the Aquaventure.
--Advertisements--
--Advertisements--
You can enjoy as many slide-downs through the waterslides…oh what wonder! You can also take your time through the underground grottos where you will be treated to the exhilarating side of a lot of exciting aquatic creatures in the aquariums. The dolphins there are so lovely.
YOU CAN GO A MEMORABLE SHOPPING EXPERIENCE AT THE DUBAI MALL
After enjoying a cheap flight down to Dubai, you can now rightly spend all you have saved from your cheap flight shopping for some wonder in Dubai. You can conveniently get to the central Dubai mall. The experience is definitely going to envelope you with enthusiasm and astonishment. The mall is gigantic comprising of strings of restaurants, shops, theatre, ice skating rink, and even an aquarium. There is also the Sega Republic theme park. All these fun centers come tastefully together to give you that reverberating fun experience.
YOU CAN GO MARVEL AT THE BURJ AL ARAB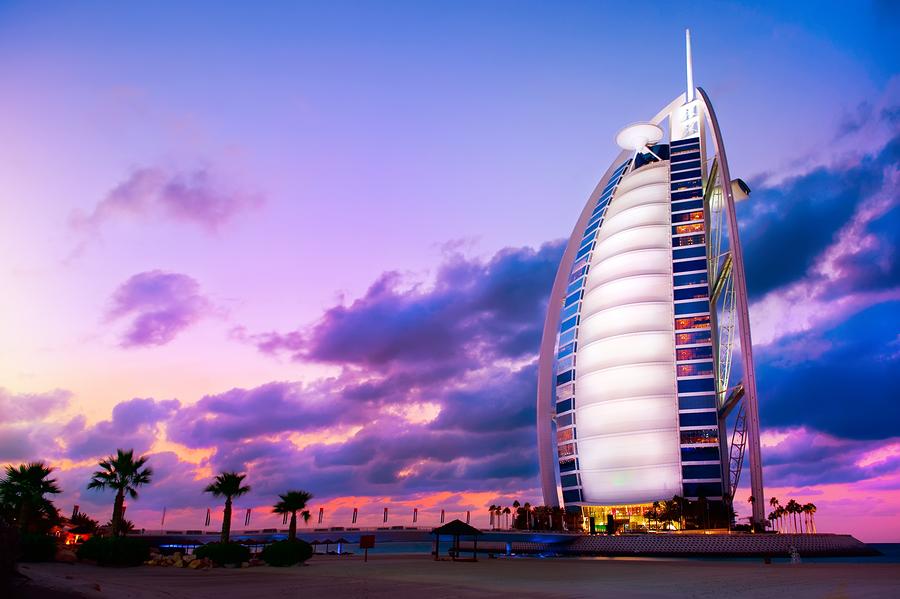 CREDIT: Kunal Mukherjee shared under
Flickr
Just like the Burj Khalifa, this is another signature edifice of modern Dubai. The Burj Al Arab was so wonderfully built in the mould of a sailboat. It looks amazing on the picture right, but it is a whole lot more mesmerizing when you see it in real life. The Burj Al Arab is arguably a top-class hotel in all its eminence hence it is fondly tagged a "7-Star hotel".  Get in and take a shot, paste on social media and all your naija people will know your class has changed.
FOR THE SPORTS LOVERS, DUBAI HAS IT ALL FOR YOU
From manicured golf courses to soccer, basketball, and tennis, Dubai has it all in abundance for you. Dubai has hosted many major sports events in the past cutting across the Barclays Dubai Tennis Championships and even the Dubai world cup. Many Nigerians love the Nad Al Sheba Racecourse for its peculiar sporting glow. You can have as much sporting entertainment in Dubai with top class world sophisticated sporting equipment guaranteeing the tastiest sporting experience you can get.
YOU WOULD LOVE TO SEE THE AL BASTAKIYA AND THE OLD FORT
 Marvel is an understatement when you get to this location.
It is reminiscent of the ancient beauty of Dubai before it was all embellished with technology.
After seeing so much of modern Dubai, the Al Bastakiya and the Old Fort would be a nice place to reconnect with history and the ancient times. Some time ago the village of Al Bastakiya was on the demolition list but eventually, it was preserved for its deep cultural beauty hence it stood as a museum.
In all, Dubai is the place to be. If you are tired of the exhausting hustle and bustle of Lagos, Port Harcourt, Calabar and other big Nigerian cities, it is time to take a far distant stroll abroad to Dubai for the most sumptuous of relaxation.
--Advertisements--
--Advertisements--